i'm going to start this post with a true story:
as i mentioned recently, i found a new hot yoga studio that i'm head over heels in love with. unfortunately, it's on the other side of the island from where i live. and though it's technically spring, the weather is still, well...
this means that i need to change clothes before commuting home, since i don't want to die of "frozation" (a word i made up a long time ago). so i brought a pair of old yoga pants that i've painstakingly worn into the ground and changed into them after class and went on my way. and then this happened:
apparently it's a free show.
so needless to say, i've been in the need to update my workout gear for a while. lucky for me, i LOVE to shop. more than most things in life, actually.
preach.
i never really saw the importance of spending a lot of money on workout gear because you're just sweating in it. also, who do i need to really impress at the gym? no one. however, now that i started upgrading, i can't believe it's taken me this long. specifically because of the sweat wicking material: LIFE CHANGING.
i'm sure i've mentioned this before but i'm what you call a sweaty beast. and do you know what comes with sweat? stench. so i need anything that's not going to sit on me and make me smellier than the homeless man who tried to talk to me on the subway yesterday morning.
my newest fitness go-to spot?
athleta
. or what i like to call, the less-expensive version of lulu with slightly lower prices and slightly less see-through pants. they also carry sizes that fit more than just those who look like they work out all the time (i.e. real people). added bonus: they're owned by gap, which means they take my gap card (
sorry mom)
and they often have sales
.
here's a quick overview of what i'm currently rocking a few times a week.

t
he cairo bare to run knicker
are my new go-to pants for any cardio class: i have 4 pairs. they don't ride up. the crotch doesn't sag. and you can't see my underwear through them. win-win.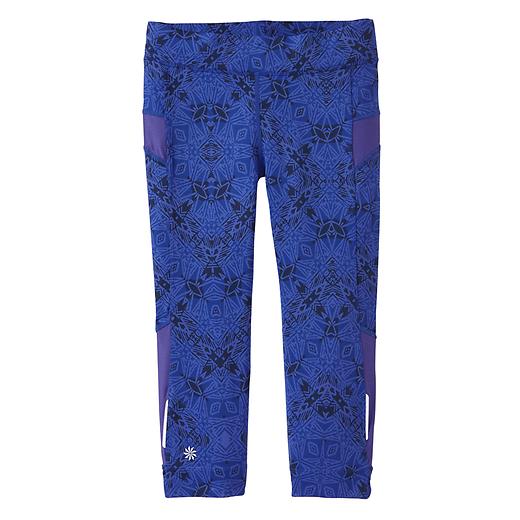 patterns! on the lower half! madness!
the glory bra:
not sure i ever mentioned this, but given that i'm a tall woman with a large frame and you've seen photos of me, it shouldn't surprise you that my "girls" need a lot of support when it comes to working out. got to keep them pointing up as long as i can, right? anyway, this sports bra has extra built in support to i won't pop myself in the eye when i'm doing jumping jacks. or "running." or doing anything really.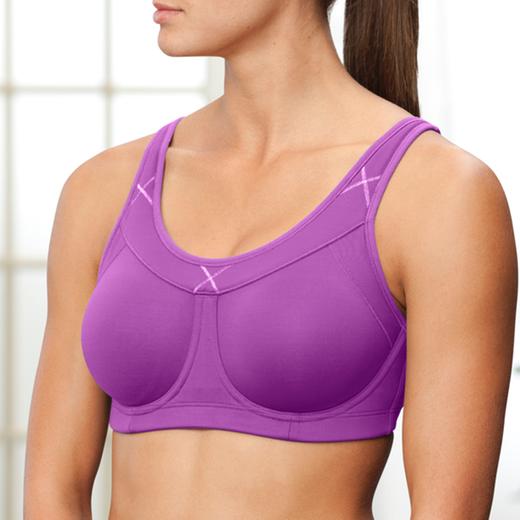 obvi i have it in this color. i'm a lady.
the spring tote:
so i've been needing a new gym bag for a while because i carry my life with me every day. also, i have giant feet, so my sneakers rarely fit in a tote that also allows room for all my other gear. luckily, my birthday was a few weeks ago, so with a gift card in hand, i could finally splurge on the bag i've had my eye on for a while.
look at all that room. and it's purple on the inside. it holds EVERYTHING i need for a trip to any class, plus has plenty of room for my lunch every morning.
as for tops, i used to settle for my usual gator t-shirt and call it a day. but again. the sweat would sit on me and i would feel disgusted. so i started upgrading, but refuse to spend as much money on tops as i would on any other part of the workout process. enter:
gapfit
.
as an avid gap shopper, i know that everything they have in stock will ultimately go on sale soon. and it will be dirt cheap. so whenever i stop in the store, i walk over to the sale section and see what they have. i've picked up a handful of tanks, long-sleeved and short-sleeved tops for no more than $10 a piece every time. done and done.
i fully support you guys sporting my style at the gym because i will say, when you're excited to put on a cute outfit, it makes it more fun to go anywhere, even the gym. i mean, isn't that how our parents got us to get excited that summer was ending and to go back to school? no, just me? okay, cool.
p.s. i also own this
tank top
and rock it every time i can. because why the fuck not?
#likeaboss