first and foremost, please take in all that the amazingness is from the above.
second, what's up party people! i know that i said i would be back more often, but then i wasn't. and that made me a tease.
guess what? deal with it.
anyway, i am back and on the path to enlightenment or whatever and i figured i would start with something super trivial and fun to make it super easy to draw you back into my web of lies and despair. and what's the best way to do that? by telling you about the awesome work out songs that i jam out to at the gym.
so i've been to the gym TWICE in a week - which sadly is a big deal for me these days as my life has been bonkers - and i realized that i'm not your normal cardio enthusiast. one reason is because i hate being at the gym. the second is that i find myself getting lost in the groove way too easily. i sing along silently (i think), have hand movements that come dangerously close to the people next to me and an ass shake that frankly, just won't quit. so what i'm saying is that i'm a fucking gem. and i also have some awesome music spinning to keep me motivated when i don't want to be there.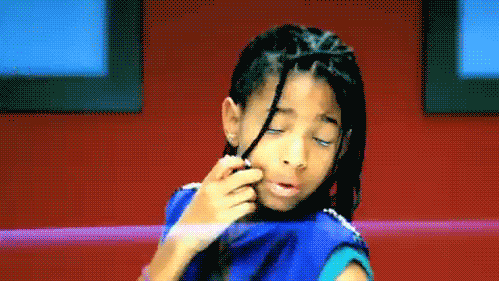 willow understands what i'm talking about.
since i am nothing if not a giver (lies!), i figured i'd share some of my go-tos to get the blood pumping. and note, this is just a few, as my gym playlist is over 80 songs long. just in case i decide that i want to stay longer. not that i ever do.
1. Beyonce. obvi.
so this is not as much of a song suggestion, but merely a genre in itself that makes you want to
run
walk faster because the beat is so damn good. plus, her body is slammin, so that's got to be a sign she's doing something right with the music, right?
spin this shit:
crazy in love, run the world (girls), get me bodied
this is also what i say when asked why i don't go to the gym as much as i should.
2. angry music.
i like to consider myself an upbeat person most of the time. but there is nothing more motivating for me than the idea that i'm getting back at someone who wrong me. just like my girl mindy kaling (she doesn't know she's my girl. yet.), i have revenge fantasies and they come to full life when i'm at the gym. and if i'm to believe pinterest, the best revenge is living well, so i better start jogging on that treadmill to make the haters pay.
spin this shit:
you oughta know by alanis morrissette, since you've been gone by kelly clarkson, fighter by christina aguilera, survivor by destiny's child (more bey!), i don't need a man by the pussycat dolls (whatever, it's fine).
fat amy is my spirit animal.
3. guilty pleasures.
there's nothing like your secret shame songs to get you going. the people around you may judge your choices, but damn you have a smile on your face as you up the incline.
spin this shit:
spice up your life by the spice girls, we got the beat glee version, independent women by destiny's child (bey FOREVER), let's be bad from SMASH, whipped into shape from legally blonde the musical (if they can jumprope to this on stage, i can jog for this bad boy).
4.
unexpected songs.
when i think of the black keys, i think of laid back tunes that i can listen to all day. not of sports bras and gatorade. yet, some of their stuff is lovely on a workout playlist, especially if it helps you change your pace and make your body adjust. break up the monotony of the routine with some stuff that's different from the usual bumping bass to make things interesting.
spin this shit:
gold on the ceiling by the black keys, lover of the light by mumford and sons, black sheep by gin wigmore, stone cold sober by paloma faith
built in squat workout!
5.
your favorite songs.
i mean, this is a duh, obvi. if you love a song, you'll want to move to it, sing to it, everything to it. plus, it should make you happy to hear it that you'll forget about the pain you're currently in from doing 40 squats in a row.
spin this shit:
move along by all american rejects, dog days are over by florence + the machine, dammit by blink 182, mr. brightside by the killers, i hate myself for loving you by joan jett
finally, i will leave you with my two ALL TIME workout songs that are guaranteed to make you just fucking GO for a few minutes:
monkey wrench by the foo fighters.
dave growl is my ugly sexy and he can really do no wrong in my eyes. at the end of this song when you hear about "one last thing before i quit," you can't quit. i once sprinted at an 8 (a huge deal guys) to this because i HAD to.
BoB (bombs over baghdad) by outkast.
this song kicks you in the face from the start and never stops. it's particularly good for cycling or running or generally losing your breath because you want to try and keep up with them - which you can't - while trying to remember all the words - which you also can't do. it's the song that doesn't give you any other choice than hustle.
and that, my friends, is it. i'm heading to the gym now with my playlist geared up for a tough night sweating it out, but if i missed one of your favorites, send it my way so that i can add it to my list.
also so that i can sing it loudly. off-key.